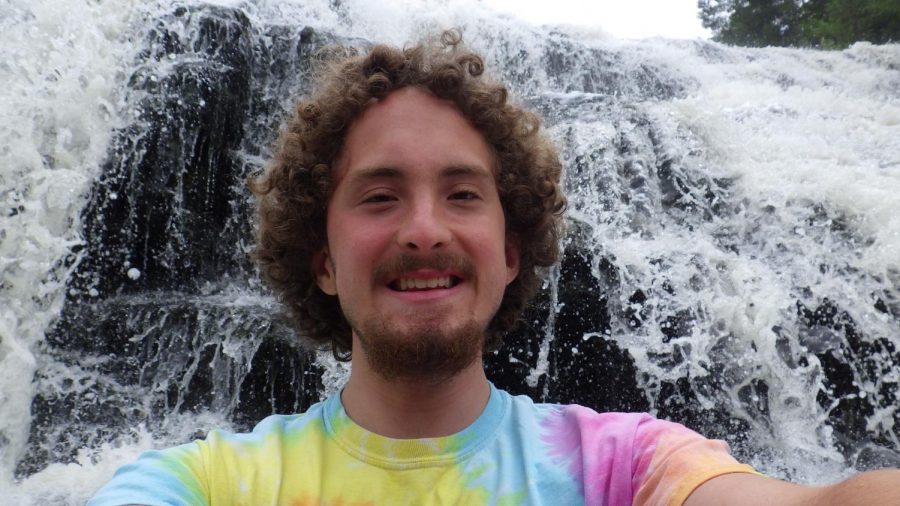 (He, him, his)
Kenneth Forbeck is a seventeen-year-old Senior at Craig High School.
Since starting high school in 2016, he has served as both a reporter and editor for the Craig Criterion.
He got into newspaper because he was interested in journalism, but found much more.
With the newspaper, he became a photographer, activist, and a truth-seeker.
"With the Criterion, each student can have a voice, be recognized, and share something they're passionate about with the rest of the school. My hope is that students realize the importance of journalism, separating rumor from fact, and giving attention to the happenings or issues in our school."
When he's not writing, he works hard in multiple AP and honors classes.
And can be found being an activist at rallies, marches, and through his daily actions.
Even though he also advocates strongly for equality and gun control reform, he focuses himself primarily on environmental issues and education.
He does that by volunteering at Nature at the Confluence in South Beloit, and the Welty Environmental Center in Beloit, WI, where he is on the Board of Directors.
He also spent the 2018 spring semester in the Northwoods at Conserve School, an environmental and conservation based semester school in Land O' Lakes, WI.
He claims that there he found truth in the John Muir quote "In every walk with nature one receives far more than he seeks."
During his four months there he grew his passion for the natural world through stewardship, camping, quinzee building, hiking, snowshoeing, skiing, and countless other activities.
He believes that the world can be a better place and fights for it with activism, stewardship of our lands, and through journalism.
"I hope that I can leave a positive impact wherever I go. Whether it is as simple as not using plastic to helping start conversations that can progress our community," he commented.
Kenneth Forbeck, Reporter, Photographer, and Student Editor
May 28, 2020

Phillips honored as Administrator of the Year

(Story)

Feb 17, 2020

Air Force Brings Jet Engine

(Story)

Feb 11, 2020

Craig Defeats Parker 71-60

(Story)

Feb 10, 2020

Winter Blood Drive 2020

(Media)

Jan 28, 2020

Craig Beats Parker Rivals!

(Story)

Jan 28, 2020

Craig Varsity Girls Basketball Loses against Middleton

(Story)

Jan 27, 2020

Craig Swim Wins and Loses at Triple Dual

(Story)

Jan 07, 2020

Bags of Hope raises $44,000

(Story)

Dec 19, 2019

Craig vs. Beloit Boys Freshman Basketball

(Story)

Dec 17, 2019

Parker vs. Craig Boys Swim Meet

(Story)

Nov 26, 2019

The History of Thanksgiving

(Story)

Nov 21, 2019

Eighth Grade Visits Agriculture Department

(Story)

Oct 15, 2019

Students Accept Hispanic Heritage Month Resolution from Janesville City Council

(Story)

Oct 15, 2019

Jacob Wiele Recognized as Emergent Teacher of the Year

(Story)

Oct 12, 2019

FFA Fall Field Trip

(Story)

May 23, 2019

A Night on the Red Carpet : Prom 2019

(Story)

Apr 30, 2019

Honor Wall Speech: Maria Regan Gonzalez

(Story)

Apr 30, 2019

Honor Wall Plaque : Maria Regan Gonzalez

(Story)

Mar 18, 2019

18 Band Groups/Solos Going To State!

(Story)

Feb 16, 2019

JV Girls Basketball vs Middleton

(Story)

Feb 16, 2019

Cheer : Girls Basketball vs Middleton

(Story)

Feb 16, 2019

Varsity Girls Basketball vs. Middleton

(Story)

Feb 16, 2019

Poms (Middleton vs Craig Girls Basketball)

(Story)

Feb 16, 2019

Poms Parent Night

(Story)

Feb 16, 2019

Girls Basketball Senior Night

(Story)

Feb 16, 2019
Feb 16, 2019

New Editions (Boys Basketball vs. Middleton)

(Story)

Feb 16, 2019

Isaac Strong Donation Ceremony

(Story)

Jan 23, 2019

Preview Night : Edison

(Story)

Jan 23, 2019

Preview Night: Other Schools

(Story)

Jan 23, 2019

Preview Night : Craig Illuminations

(Story)

Jan 23, 2019

Preview Night : Craig Spotlighters

(Story)

Jan 15, 2019

Craig Rock 'n' Robots prepare for MIT

(Media)

Jan 08, 2019

Season Start Sport Profile : Boys Hockey

(Story)

Jan 08, 2019

Season Start Sport Profile : Gymnastics

(Story)

Jan 08, 2019

Season Start Sport Profile : Boys Basketball

(Story)

Jan 08, 2019

Season Start Sport Profile : Wrestling

(Story)

Jan 08, 2019

Season Start Sport Profile : Girls Hockey

(Story)

Dec 18, 2018

Candy canes roam the halls!

(Story)

Nov 28, 2018

Yondr, The New Phone Case Where You Can't Use Your Phone

(Story)

Nov 08, 2018

Tillema steps in as Interim Dean for 2018-19 school year

(Story)

Nov 05, 2018

Midterm Elections : VOTE NOVEMBER 6!

(Story)

Oct 23, 2018

Pinktober: Breast Cancer Awareness Month

(Story/Media)

Oct 08, 2018

Homecoming 2018 Dress Up Days

(Story)

Oct 08, 2018

Homecoming 2018 Pep Rally

(Story)

Sep 25, 2018

Midwest Invitational Photos

(Story/Media)