Craig puts the fun into FBLA
Future Business Leaders of America, or FBLA, is a new club at Craig.
FBLA participates in competitions across the state and country. In this way it is similar to DECA.
And our club is looking for new members! One great benefit of FBLA is its large variety of competitions. Categories range from computer programming projects to written tests on financial systems.
Another is travel. This year, FBLA state will be in Green Bay, and nationals will be in San Antonio.
A full list of competitive events is available online at https://www.fbla-pbl.org/fbla/competitive-events/
In addition to the opportunity to expand our knowledge through competition, those of us in FBLA are also able to make connections. Though we compete, we share camaraderie. Because of this, there is always the opportunity to meet people who will be successful in the business world. 
Participating in DECA and FBLA is also fun. Students have the opportunity to travel across the country with people with a common interest.
Joining me in this club are Mark Jahnke, Andrew Jahnke, Jayce Reilly, Koby Porter and maybe you!
Many students assume that these clubs are a large time commitment, but that is untrue. If any of you just wants to go the competitions and a couple of meetings, you can! Whatever students put in is what they get out.
If any of you are interested, I invite you to contact advisor Mrs. Larson if you have questions.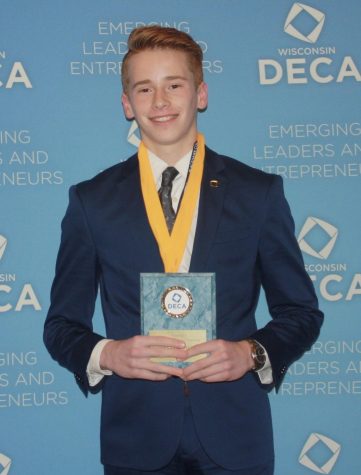 Sawyer Sullivan (grade 11) pictured with his DECA award. This year, he is part of FBLA, a new student business organization. Meetings take place monthly. Student should listen to announcements for dates and times.