Class of 2020 prepares for historic commencement
It will be a commencement like no other in the history of Craig High School.
In normal times, thousands of people cram into Monterey Stadium on a June evening to celebrate the rite of passage that is commencement. 
Students, special guests and administrators give speeches. The band plays. The choir sings. 
As seniors clad in blue cross the stage to receive diplomas, cheers rise from the stands.  
Some seniors hug teachers.
The night continues as seniors celebrate with their family and friends.
For teachers, the night is bittersweet as they say goodbye to their students.
For students, the night symbolizes their passage from studenthood to adulthood.
This year, however, graduation looks a lot different. At noon on Saturday, June 6, Craig's commencement will be broadcast on YouTube.
The pandemic forced students to complete their academic years at home. They will graduate at home, too.
An effort to achieve normalcy
But, like everything else during this pandemic, this year's commencement represents an effort to maintain normalcy.
Students, administrators, and special guests will speak. The band will play, and the choir will sing. 
Students will hear their names called and will move their tassel from the right to the left.
And everyone will watch from home, many gathering their families on Zoom calls.
Drywater Productions filmed speakers and edited and assembled the production.
Craig principal Dr. Alison Bjoin is impressed with the results.
"I've seen the rough cut of the video," she said. "It's about an hour and 15 minutes long. It's great."
As in prior years, the senior class selected two students to speak to their classmates.
This year they selected Gabby Petruzzello and Grace Bussan.
Gabby Petruzzello, one of Craig's valedictorians, will share words about resilience and vulnerability.
Grace Bussan's speech focuses on what students have gained from their time in quarantine instead of what they have lost.
Gabby and Grace capture the meaning of the moment and of these unprecedented times.
Two other seniors auditioned to be selected. One of them, Lauren Glissendorf, agreed to share her speech. 
Planning began in April
The process for planning Craig's virtual commencement began after the official pronouncement that schools would close through June 30
The district surveyed all seniors and their families. The choices included a virtual ceremony, live ceremony in July, and canceling commencement. 
An overwhelming majority selected a virtual ceremony. "And the door is open for an in-person ceremony later in the summer if the health situation allows," said Dr. Bjoin.
Over the past few weeks, students sent in pictures of themselves in their blue caps and gowns.
While not all seniors submitted photos in their caps and gowns, most did. "I would estimate that 90% of the seniors sent a picture in cap and gown," said Dr. Bjoin.
"We also had many seniors submit video clips for inclusion in the ceremony," she added. 
These video clips, which will be inserted at various points during the ceremony, will include seniors mentioning teachers who made an impact on them.
Dr. Bjoin expressed mixed emotions about this year's commencement. 
On the one hand, she is "saddened" because "seniors were unable to have a traditional end-of-high-school experience." 
But she is also "proud of how the Craig Community has come together to recognize" seniors. She cited the yard sign deliveries and the virtual ceremony.
Despite the challenges and difficulties forced on the Class of 2020, Dr. Bjoin encourages its members to focus on what is most important, and that is "our connections with people."
"The time we share with our family, friends, teachers, coaches really matters," she said. 
Stuckey to address students
Pete Stuckey, biology teacher, was selected by the senior class to speak. He has taught in Janesville for 17 years, 14 years at Marshall Middle School, and last three at Craig High School.
Stuckey was surprised to be selected.
"My immediate thought when I asked to give the commencement speech was of shock and terror. Almost as quickly it transformed into gratitude and pride that they thought enough of me to give the speech."
He remembers the excited looks on the faces of Dr. Bjoin and the class officers, who came to his classroom on the day of ACT testing to tell him the news. 
"Despite my initial sense of fear, seeing their excitement there was no chance of saying no or letting them down," he said.
His message to students is simple yet profound. 
"I hope the message the students get from my speech is that if you focus on the present and follow the golden rule, that life will be happier and that you will likely be more successful," he said.
Senior class president Emily Klein explained that Stuckey's long association with the senior class factored into their selection.
"A lot of us had him as a teacher at Craig or Marshall. He transitioned with our class, therefore he's known us and grown with our class. We also felt he's very articulate," she said.
Despite the unique format of this year's commencement, the meanings of graduation remain the same. It is a rite of passage, a celebration of achievements and a first step into a brighter future.
About the Writer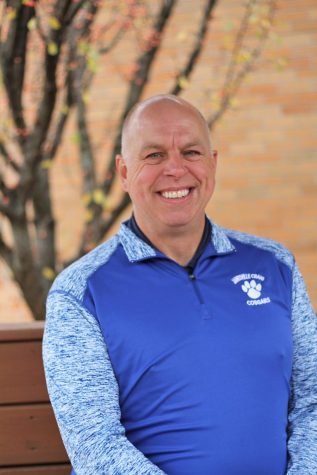 David Holmquist, Teacher & Adviser
(He/Him)
David Holmquist, age 53,  has been a teacher at Craig High School since 1991. Since 2014 he has served as the teacher and adviser for Craig's...