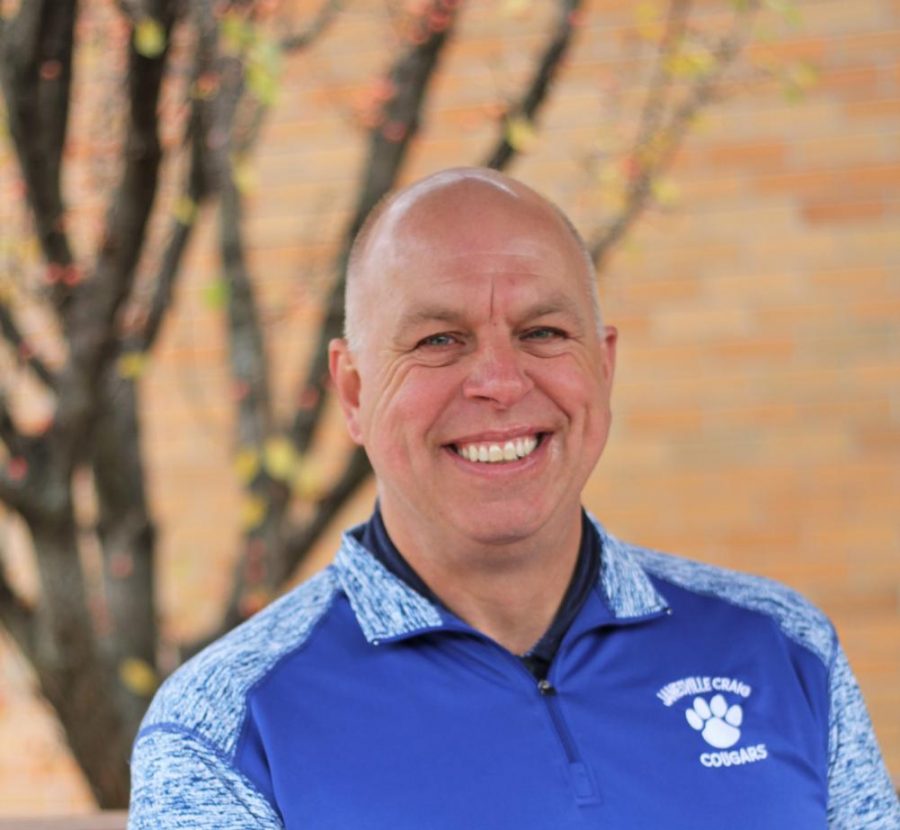 (He/Him)
David Holmquist, age 53,  has been a teacher at Craig High School since 1991. Since 2014 he has served as the teacher and adviser for Craig's student newspaper, the Criterion. He enjoys helping students to discover their writing voices and encourages them to find interesting stories and perspectives. Working on a high school newspaper offers a unique opportunity to tell the stories of a school year in ways that other media formats cannot. "News 15 or the Janesville Gazette will cover major events like lockdowns and varsity sports. But our school newspaper can write stories about our school's teachers and students who often don't get covered," he said.
He likens Craig to a  small town, with similar challenges and stories to uncover. "Craig has 2000 inhabitants," he said. "That is more than many small cities that have their own newspapers." He added, "We have food services, law enforcement, health care, culture, entertainment. Potential stories are everywhere." He hopes the newspaper becomes the go-to place for students and staff to be informed and that it provides a spark to conversations. "I want our paper to challenge people, to get them thinking and talking about what role Craig has in their lives and what we want this community of learners to be."
Mr. Holmquist is a 1990 graduate of UW-Eau Claire, and he received his master's degree from UW-Whitewater in 2004. He is married with three children and lives in Janesville.
David Holmquist, Teacher & Adviser
Dec 10, 2020

The Fight to Win in Basketball and Against Corona

(Media)

Nov 13, 2020

BREAKING NEWS: Craig online starting Nov. 17

(Story)

Oct 29, 2020

Craig shows fall festival and Halloween spirit

(Media)

Oct 26, 2020

Yays and Nays of COVID 19

(Media)

Oct 09, 2020

A day in the life of remote teaching and learning

(Story)

Oct 01, 2020

Yays and Nays of Online Learning

(Media)

Jun 05, 2020

Class of 2020 prepares for historic commencement

(Story)

Jun 05, 2020

Craig seniors forge ahead to face the future

(Story)

Jun 05, 2020

From freedom and excitement to disappointment and chaos: Seniors describe graduation in one word

(Story)

Jun 05, 2020

Class of 2020 shares memories of high school

(Story)

Feb 29, 2020

Cougar Girls Hoops: Regional Champions!

(Story)

Jan 31, 2020

Bluebirds take down Ice Bears in OT

(Story)

Dec 17, 2019

Parker vs. Craig Boys Swim Meet

(Story)

Dec 12, 2019

Community organizes for climate action

(Story)

Oct 09, 2019

Girls golf: Lux returns to State

(Story)

May 30, 2019

Track Walk To State

(Story)

May 23, 2019

A Night on the Red Carpet : Prom 2019

(Story)

May 01, 2019

"Pippin" takes audiences on a wild trip

(Story)

Jan 04, 2019

Close call: Cougars fall to Verona

(Story)

Dec 20, 2018

Officially a Badger: Benton signs to play for Wisconsin

(Story)

Dec 20, 2018

Fury Unleashed: Girls hockey dominates Metro Lynx

(Story)

Dec 12, 2018

Gymnasts tumble to third

(Story)

Dec 06, 2018

A Vikings fan reacts to the McCarthy firing

(Story)

Nov 20, 2018

Hunting season creates memories

(Story)

Nov 19, 2018
Oct 29, 2018

Craig volleyball season ends with regional final loss

(Story)

Oct 18, 2018

Cougars lose a close one; will play at home to start playoffs

(Story)

Oct 11, 2018

Over 100 donate to blood drive

(Media)

Oct 09, 2018

Students from Argentina make their annual visit

(Media)

Oct 09, 2018

Cougars beat Verona

(Story)

Oct 08, 2018

Homecoming 2018 Dress Up Days

(Story)

Oct 01, 2018

Homecoming week calls students to get involved

(Story)

Sep 23, 2018

Cougars qualify for playoffs

(Story/Media)