Craig seniors forge ahead to face the future
Every year, the Criterion surveys graduating seniors to find out their next steps.
From college to the military to work, the 48 respondents share plans as varied and unique as they are.
The survey was sent during the last week of school, and this story will be updated if more seniors submit responses.
Carter Anderson: I'm going to Jacksonville University in Florida for Aviation 
Maddy Arrowood: College; University of Wisconsin- La Crosse 
Savannah Bennett: Work 
Julia Boutelle: College, though I don't know what one yet. I have 10 more to hear back from! 
Kianna Castleman: College 
Anna Cooper: College
Ariel Day: UW Rock County for two years and then to UW Whitewater for an elementary education teaching degree
Ashlyn Dentremont: College– Milwaukee School of Engineering
Matthew Dillion: Go to Indiana University to study finance and economics 
Braden Dodd: I'm going to The University of Wisconsin-Whitewater to study business and finance
Artijola Emini: Black hawk tech for dental assistant 
Cecily Ennis: College, UW-Eau Claire in their pre-med program 
Ross Fitzgerald: UW Platteville
Kenneth Forbeck: Study Wildlife Ecology at UW-Madison
Christian Gandsey: Work for a bit then probably college 
Planeta Gashi: I plan to go to a four-year college to study psychology.
Cassandra Goswick: I plan to go to the University of Minnesota – Twin Cities and major in Biochemistry. 
Alexander Griddley: I'll probably just go into the workforce. I might go to a college later, when I have the chance.  
Henry Harrison: I plan to go to Blackhawk College 
Baylee Hernandez: I plan on going to college: U-Rock first for one semester then Edgewood College in the fall of 2020. I plan to major in psychology.
McKenna Hill: I plan on attending U-Rock in spring of '21 to earn my Associate's degree and knock out my generals, then go to Northern Michigan University for the Bachelor's degree in political science. 
Myanna Holmes: I plan to become an animator and an artist that is well known by my people!
Keegan Ingraham: Getting an apprenticeship
Ian Knox: What I plan on doing next is going to College. For my first two years I'll be going to University of UW-Whitewater at Rock County Campus. Then, I'll be going to the actual campus of UW-Whitewater to get a degree in education.
Ava Lampson: Rock Valley College
Skylar LeConte: Military
Hailey Lippert: I'm taking a year off so I can work and save my money. Then heading off to college 
Hannah Loertscher: Attending UWW for social work
Rayne Matmanivong: College
Joseph McCormick: No clue
Sean McGinnis: Military- Navy
Giana Mecollari: I plan to attend U-Rock in the fall to pursue and English degree, then transfer to Milwaukee.
Tara Myers-Dietrich: I plan to go to work because school is not for me. 
Cody O'Connell: Go to Blackhawk Tech to become a firefighter. 
Gabby Petruzzello: Secondary Education major at Central College
Tucker Richards: UW-Whitewater at Rock County so that I can't save a few thousand dollars. Then I'll transfer to who knows where.
Issaih Riggs: Work +college, then hopefully get my own restaurant downtown 
Zachary Schiefelbein: College 
Canyon Schuenke: College- Blackhawk Tech 
Allison Scimeca: I plan to go to Blackhawk Tech for criminal justice.
Hunter Slack: Working
Matthew Staver: Military, probably the Air Force
Abbie Stubendick: I plan on going to college in the fall at UW-Eau Claire 
Jackson Valley: Electrical apprenticeship
Lane Wagner: I plan to go to UWW for Computer Science.
Shaylee Weckerly: I plan on getting a full time job, save up and go to college.  
Sydney Williams: I will be attending Louisiana State University.
Merle Wolff: First Highschool in Germany (Bremen) for two more years and after that University in Germany (Lübeck).
About the Writer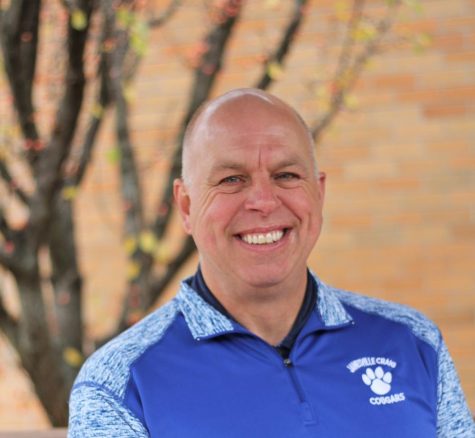 David Holmquist, Teacher & Adviser
(He/Him)
David Holmquist, age 53,  has been a teacher at Craig High School since 1991. Since 2014 he has served as the teacher and adviser for Craig's...