From freedom and excitement to disappointment and chaos: Seniors describe graduation in one word
Every year, the Criterion surveys graduating seniors to describe graduation in one word.
In this year of unprecedented challenges, the meaning of graduation means different things to different people.
The survey was sent during the last week of school, and only 48 students responded. This story will be updated if more surveys arrive. Seniors can look for an email from Mrs. Alling, which contains the link.
Carter Anderson: Nonexistent 
Maddy Arrowood: Beginning
Savannah Bennett: Quarantine 
Julia Boutelle: Taken 
Kianna Castleman: Empowering 
Anna Cooper: Freedom
Ariel Day: Relief
Ashlyn Dentremont: Freedom
Matthew Dillion: Missed
Braden Dodd: Finally
Artijola Emini: Happy
Cecily Ennis: Unstoppable 
Ross Fitzgerald: Exciting 
Kenneth Forbeck: Proud
Christian Gandsey: Exciting 
Planeta Gashi: Relief
Cassandra Goswick: Accomplishment
Alexander Griddley: Finally
Henry Harrison: Different 
Baylee Hernandez: Finally
McKenna Hill: New beginnings. I know it's not one word but it's like the end of an era of my life and the beginning of a whole new chapter. 
Myanna Holmes: Acceptance
Keegan Ingraham: Freedom
Ian Knox: Graduation for me as a member of the Class of 2020 means hang on for right now, but better times will get here. You just have to push yourself to be the best in no matter what situations come up, and change your plans. Keep on going, and being successful! Is what graduation means to me now.
Ava Lampson: Amazing
Skylar LeConte: Adventure
Hailey Lippert: Excitement 
Hannah Loertscher: Growing up
Rayne Matmanivong: Epic
Joseph McCormick: Pain
Sean McGinnis: Overdue
Giana Mecollari: Relieving
Tara Myers-Dietrich: Dreading because it wasn't what I hoped for
Cody O'Connell: Underwhelming
Gabby Petruzzello: Opportunity
Tucker Richards: Stolen
Issaih Riggs: Mildly disappointing
Canyon Schuenke: Exciting
Zachary Schiefelbein: Social Distance
Allison Scimeca: Freedom
Hunter Slack: Finally
Matthew Staver: Finally
Abbie Stubendick: Exciting
Jackson Valley: Exciting
Lane Wagner: Chaotic
Shaylee Weckerly: Hope
Sydney Williams: Finale
Merle Wolff: Pride
About the Writer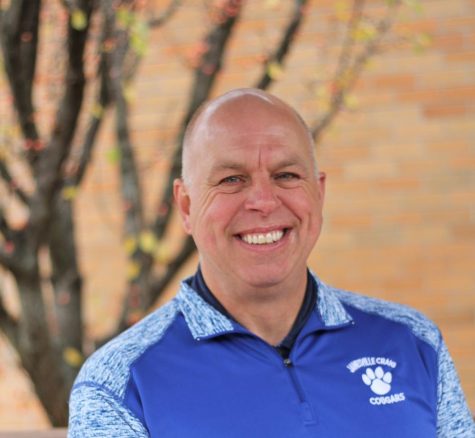 David Holmquist, Teacher & Adviser
(He/Him)
David Holmquist, age 53,  has been a teacher at Craig High School since 1991. Since 2014 he has served as the teacher and adviser for Craig's...