Community organizes for climate action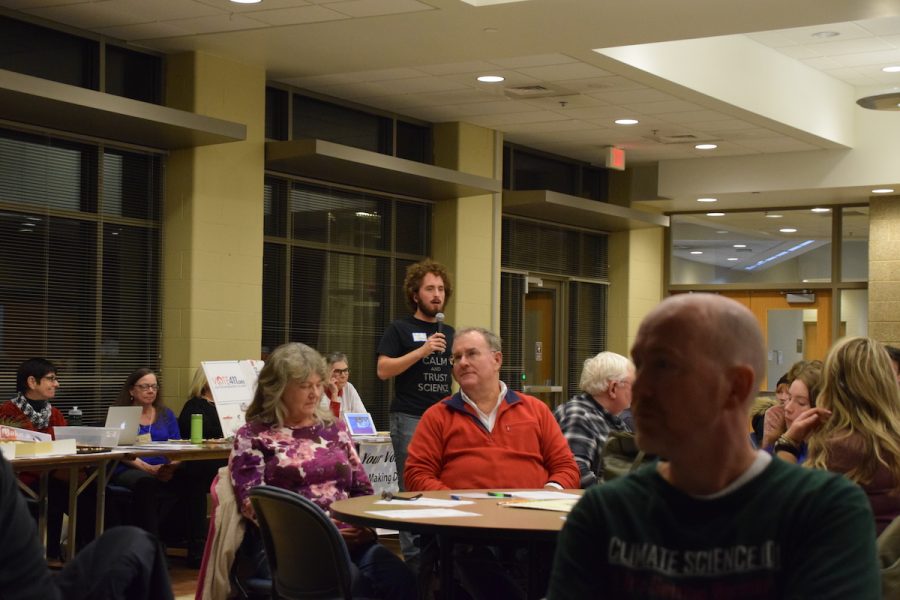 In the decades since the dawn of the Industrial Revolution, global temperatures have been rising.
According to Dr. John Frye, UW-Whitewater climatologist and meteorologist, humans have made an undeniable impact on the earth's climate. 
"Yes, there are natural cycles," he acknowledged, echoing words popular with climate-change deniers, "but much of it has been caused by us." 
His presentation was part of a meeting to community activists who assembled at UW-Rock County on November 21. 
Over 100 people attended the meeting to learn about the human impacts on climate change and to share resources and ideas to take action in their communities.
Joining Dr. Frye were three young advocates, UW-Whitewater students Taylor Stevens and Jonathan Roberts and Craig senior Ken Forbeck. 
The students spoke about their passion for addressing climate change and shared the roots of their activism.
But before they shared their stories, Dr. Frye shared the science. 
Rising global temperatures are the result of increased carbon dioxide in the atmosphere. 
Since the carbon dioxide released by burning fossil fuels is chemically different than the CO2 released by plants, Frye said, the only conclusion is that human activity is the cause for its increase. 
Another consequence of the burning of fossil fuels is increased precipitation and more flooding.
A warmer atmosphere holds more water, and this leads to more rain.
However, Wisconsin is seeing fewer days of rain, which means "rain events are more intense," said Frye. It is these one to two-inch rains that lead to flooding.
What does the future hold? 
On the current trajectory, with no changes–"if we keep doing what we're doing," said Frye–temperatures will increase sharply over the next decades. 
Wisconsin's average temperature will increase 7 degrees Fahrenheit. If the United States adopted the regulations outlined in the Paris Agreement, temperatures will increase slightly but level off after 20 years. 
However, the United States has withdrawn from the agreement.
With these stark facts put before it, the community was asked, "What can you do?"
The student activists provided some answers. 
At UW-Whitewater, Students Allied for a Green Earth, or SAGE, has worked to raise awareness of climate change. 
Jonathan Roberts, a UW-Whitewater senior, believes that community activism and grassroots efforts are the key to solving the crisis.
"We're not seeing our government or corporations take action, so it's up to us," he said.
Roberts defined activism as "starting conversations and advocating for change." Even something as simple as "making smart eating habits" like buying local products and eating in is a way to combat climate change. 
Taylor Stevens, also a Whitewater senior, defined activism as "fighting for what you believe."
She has put herself forward as an example and guide for people to take action. 
Stevens urged attendees to identify what their communities need as well as what they do well. It is about "empowering ourselves" she said.
The final student activist to speak was Craig senior Ken Forbeck, and he shared the roots of his activism. 
As one of a "quad," which he calls himself and his three siblings, he experienced community action at a young age. 
He remembers many visits from community members to help his parents to manage their infant quadruplets.
"I learned all the ways to take action," he said. That sense of community grew into a concern for issues such as gun violence and climate change.
"The youth, we are scared for our future. It is so important that we take care of our Earth."
He echoed Stevens and Roberts when he said, "The smallest action can make the biggest impact."
Armed with scientific facts and the passion for making a difference, the students hope to spark change. 
"We have to create alternatives to the dominant system," Roberts said.
Stevens added, "We can be powerful when we work together."
About the Writer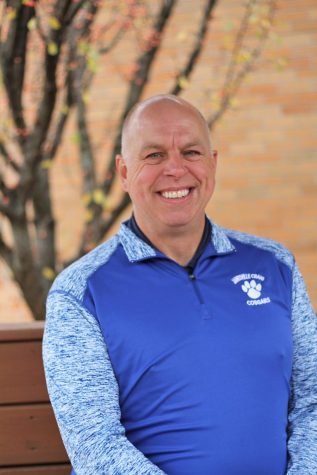 David Holmquist, Teacher & Adviser
(He, him, his)
David Holmquist, age 53,  has been a teacher at Craig High School since 1991. Since 2014 he has served as the teacher and adviser for...