"Pippin" takes audiences on a wild trip
What: The Craig music department presents "Pippin," written by Stephen Schwartz, the writer of "Wicked" and music from such movies as "Enchanted" and "Pocahontas." Craig alumnus and New York theater professional Matt Imhoff is the director. Music is directed by Adam Miller and Ryan McCoy. Maria Meier is the main piano accompanist. 
When: The musical plays on Thursday and Friday, May 2 and 3 and again from Thursday through Saturday, May 9-11, at 7:30. The final show will be a matinee on Sunday, May 12, at 2:30.
The story: Pippin is the son of King Charlemagne. Like a lot of young people, he longs to live "an extraordinary life." A traveling group of actors convinces him to join them, and they help Pippin to live various versions of existence. He experiences the power, work, love, religion. In every one, Pippin hopes to find whatever he feels is missing, but in everyone, he feels unsatisfied.
Who: Junior Parker Runquist plays Prince Pippin is joined in his quest by talented seniors Abra Henry ("Leading Player"), Lauren Ramsdell ("Berthe"), Morgan Stengel ("Catherine"), and Isaiah Brown ("King Charlemagne"). Two roles have alternating performers. Annika Leverson (11) and Olivia Luster (11) play Fastrada, Pippin's stepmother, and Aiden McNall (11) and Dawson Schram (12) play Lewis, Pippin's stepbrother. Jimmy Hodge, a sixth grader from St. Mary's, has joined the cast as "Theo" An array of performers fill the rest of the company, and a live orchestra plays the music.
Quick-snap reviews: Broadway-quality performances…stirring solos…a funky and unique story that captures the groovy culture of the early 70's (reflected in the costumes, too)…the catchy songs sound familiar and comfortable, and the dialogue is witty and a bit bawdy, but the story's message is a serious question about what it means to find happiness and fulfillment in life…audiences will enjoy the heart and energy along with the choreography, vocals, and acting Craig has become known for! This is a must-see.
Cast:
Pippin: Parker Rundquist
Leading Player: Abra Henry
Catherine: Morgan Stengel
Charles: Isaiah Brown
Berthe: Lauren Ramsdell
Fastrada: Annika Leverson/Olivia Luster
Lewis: Aiden McNall/Dawson Schram
Theo: Jimmy Hodge
The Players: Sariyah Bryant, Anne DeGraaf, Jayna Kendell, Josiah Knilans, Annika Leverson, Olivia Luster, Aiden McNall, Ashton Mikkelson, Thomas Miller, Brieana Murillo, Tejas Patel, Dawson Schram, Devon Steed, Jarred Tippelt, Bree Wagner, and Jacob Walsh
The Ensemble: Jacob Braatz, Malcolm Eady, Cacilia Hazeltine, Esther Jung, Sonya Sullivan, Abby Young, and Savannah Zimmerman
Featured Dancers: Katelyn Adler, Emma Bussan, and Grace Bussan
Featured Dancer Sub: Emma Distefano
Crew: Camille, Bradley, Emma Chamberlain, Ethan Chan, Lindsey Fiedler, Lauren Fish, Nicole Hanke, Max Kealy, Gianna Mecollari, and Kevin Searcy
Production Staff:
Direction: Matthew Imhoff
Musical Direction: Adam Miller*
Choreography: Callie Schouten
Conductor: Ryan McCoy*
Accompanist: Maria Meier*
Scenic Design: Matthew Imhoff
Costume Design: Sharon White
Sound Design: Mike Schuler
Lighting Design: Matthew Imhoff
Production Photographer: Mandy Henry
Technical Assistant: Michelle Steed
Orchestra:
Keyboard 1: Maria Meier*
Keyboard 2: Rachel Luckett
Guitar: Ben Flanders
Bass: Megan Gabel
Drum Kit: John Schroeder
Percussion: Jacob Hanekamp
Violin/Viola: Sarah Lindholm*
Reed 1: Jerry Hrovat
Reed 2: Austin Kappel*
Trumpet: Christian Dyble and Eddie Gergets
Trombone: Alex Fiedler
Onstage Guitar: Parker Rundquist
Keyboard Programming: Randy Cohen
*Denotes Craig High School Teachers
About the Writer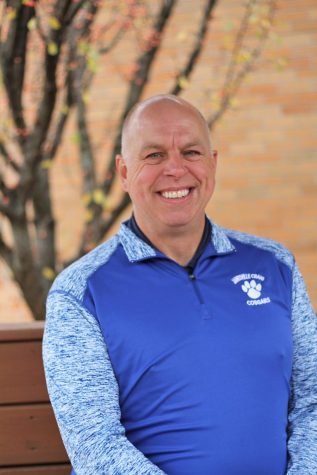 David Holmquist, Teacher & Adviser
(He, him, his)
David Holmquist, age 53,  has been a teacher at Craig High School since 1991. Since 2014 he has served as the teacher and adviser for...