Craig High School Starts Second Semester in Person
The big question rolling through everyone's heads is what does the future look like? Will 2021 have better or worse things planned for our agenda?
First off, it is important to look at things individually so as not to get overwhelmed, starting with looking at what the rest of the school year might look like.
Many students are preparing for a four-day long weekend starting on January 15th, 2021, but they are also preparing to attend school in person again.
In the middle of November, Craig High School along with Parker started going virtual for the second time in the school year. Originally, students were to attend in-person classes beginning November 27th but that was soon changed.
As many are experiencing currently, students either wait for the approach of the end of the semester when they can go back to school while others would rather stay online.
Regardless of thoughts, neither has a sure idea if their preferred schooling will continue. Either way, many have missed out on a proper year of high school, especially early graduates who won't be able to step foot into Craig as a student anymore.
 This was destined to happen seeing as Craig shut down the first time within eight days of the start of school. Even if the cohorts spread out the school population, people still were within 6 feet of each other at some point throughout the school day.
"The cohort model has been put in place in order to reduce the number of close contacts that occur when someone in the school is determined to be COVID positive," reads the email, "An effective way to decrease this number is by creating greater social distance in a classroom. The fewer students who attend school at one time – the more space we are able to create between desks."
Craig High School is to return to in-person learning on Tuesday, November 19th, the first day of the second semester. This is at least the plan. With vaccines on their way out to the public, while still not being fully distributed, the school board is at crossroads for what will happen past this date.
As for the system going forward, learning will resume cohorts but reassigned. Each student may or may not be in the same cohort they were during the first semester. 
Cohorts are working on being redesigned due to the shifts in classes, early graduates, and people coming back from ARISE Virtual Academy in large numbers. This way, each class will be evened out as to not have everyone shoved close together in a small room.
Speaking of smaller classes, each class will be capped at 26. This will keep every room spread out with desks six feet apart, much like the first cohort system in October.
For anyone unsure, it was confirmed at the School Directory of Janesville at their January 12th meeting that middle and high school students are returning to in-school instruction. Only the high school students will use the A/B day rotation.
According to the email sent out to everyone regarding the transition, a student can check their cohort by logging into infinite campus, going to the calendar, and pulling up the schedule for January 19th. If the word 'virtual' pops up, you are in cohort B. 
If no yellow flag reading 'virtual' pops up, you are in cohort A, meaning you will attend in-person instruction on January 19th, 2021.
Despite the transition, the lunch staff will still provide free lunches at the end of each school day to eat the following day. Handout areas will be announced by administration.
Just like the first cohort schedule, students do not have to attend class during their virtual days. Rather, these days can be used to work independently on homework given the day before by teachers. In addition, students will still be graded using the usual letter grades of A to F.
Teachers will be available to contact, just like office hours, from 3:28 PM to 3:45 on school days via a Zoom or Google Meet link they provide. If a student is sick, they are not to attend the in-person instruction days, rather receive portions of lessons through Google Meet or Zoom.
The cohort a student is assigned in will last until the end of the year unless Craig goes virtual again. It is likely that any more shifts in an in-person schedule won't result in changes of cohorts.
If one is unhappy with their cohort, they can make a request to change it through a link provided in the informational email. However, only select changes can be made such as family arrangements, etc. The deadline to make a request is Monday, January 18, 2021.
Craig is excited to welcome back their students to learn directly. "We want to keep Craig students in school, face to face, for as long as possible," reads the email.
About the Writer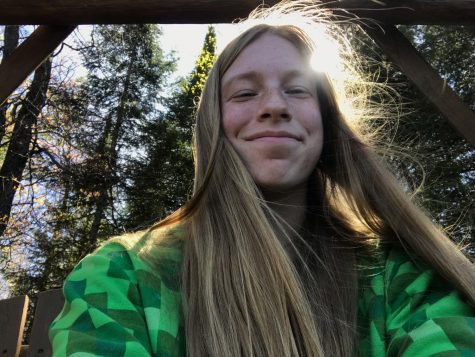 Molly Schroeder, reporter
(She/Her)
Molly Schroeder is a senior at Craig High School. This is her first year in Newspaper, and she is excited to create comics and write stories...