Craig Online: Science experiments with virtual learning
With the transition to online learning starting just a few weeks ago, teachers have had to modify their curriculum and find ways to keep students engaged and learning the material they will need to be successful later on in their lives. 
Both teachers and students have switched to a four classes per day schedule, easing the strain of an overwhelming classload when paired with the anxiety that this pandemic brings. Teachers of all disciplines are trying to find a way to make traditionally hand-on activities available through a virtual platform.
Physics and Physical Science teacher Joshua Hammen has found that the math aspect of the courses are far easier as 1-1 in person instruction. He has used video conferencing to try to individually help students, as well as doing live check-ins which are well-attended by his Physics classes. 
For his Physical Science classes, a typical week includes notes, quizlet review, a slide show of practice problems, a brief lab, and a quiz to check for comprehension. In a typical week for his Physics classes, there are some video lessons, practice problems, and frequent check-ins to ensure student understanding. This week's students are reviewing Universal Gravitation and testing on the concepts.
Hammen remarked that his Physics classes have been participating, asking questions and attending the live check-ins, but his Physical Science classes are minimally participating in the live check-ins, with many still turning in their assignments. He has found the biggest struggle to be the math aspect of the curriculum, saying "students really benefit from 1-1 instruction and help, especially when it comes to math. Now that we can use video conferencing, this has become a little easier"
Another science teacher, Kristen Worm, who teaches Anatomy and Physiology, has had to significantly modify her curriculum, which previously included hands-on labs. 
Worm has tried to find relevant articles or do some video demonstrations, but finds that a lot of the work is question and answer to ensure students are participating and is more basic facts and recall and less critical thinking. 
She has tried to balance notes and new information with a comprehension activity and a video explaining the concept further. Worm attempts to stick closely to the daily 40 minute goal for instruction.
Worm has also found the lack of in-person instruction to be a challenge. "At school, notes are like more of a two-way discussion and we talk about how it fits into real life and students get curious and one thing leads to another. With recorded videos, it's very impersonal and more like a lecture with no interaction," she said.
Worm also noted that converting all of her teaching materials into an online format is time consuming. Usually, she is able to use similar materials each year, making slight modifications as needed, but this year, she feels like a first-year teacher again making all of the new course material.
Hammen and Worm teach TC classes, which has resulted in additional complications.
They have cut some of the original Blackhawk Technical College curriculum, which the college has been understanding of and is still allowing students full credit. 
Both teachers have decided to focus on the most important concepts going forward. For the lab element of her course, Worm creates a lab demo and provides the data to students so they can retain the key concepts out of it that they would have learned from class.
Worm empathizes for students, realizing it's a hard adjustment for students as their whole lives are modified-from working more to no social life to online classes and to family being home. 
She appreciates that most of her students are doing some of the work, but worries that only a few are doing all of it. Her students are doing the assignments, but not watching the recorded lessons or notes, which makes the assignments significantly more difficult. 
Worm emphasized that all of the staff are still trying to figure out the best way to teach in this virtual platform.
Speaking words of wisdom that need to be heard by all during this difficult time, Hammen said, "In the end, we just have to make the best of what we [have]. Learn from the struggles and we will all come out of this a little stronger."
About the Writer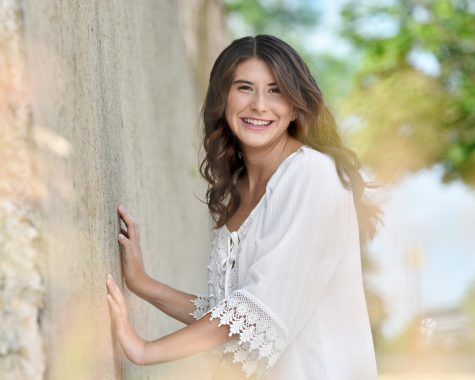 Gabby Petruzzello, Chief Editor, Photographer, and Reporter
(She, her, hers)
Gabby Petruzzello is a Senior at Craig High School. She has been on the newspaper for three years, and is currently the Chief Editor...