Spotlight on Seniors: Cecilia Harold is a senior without limits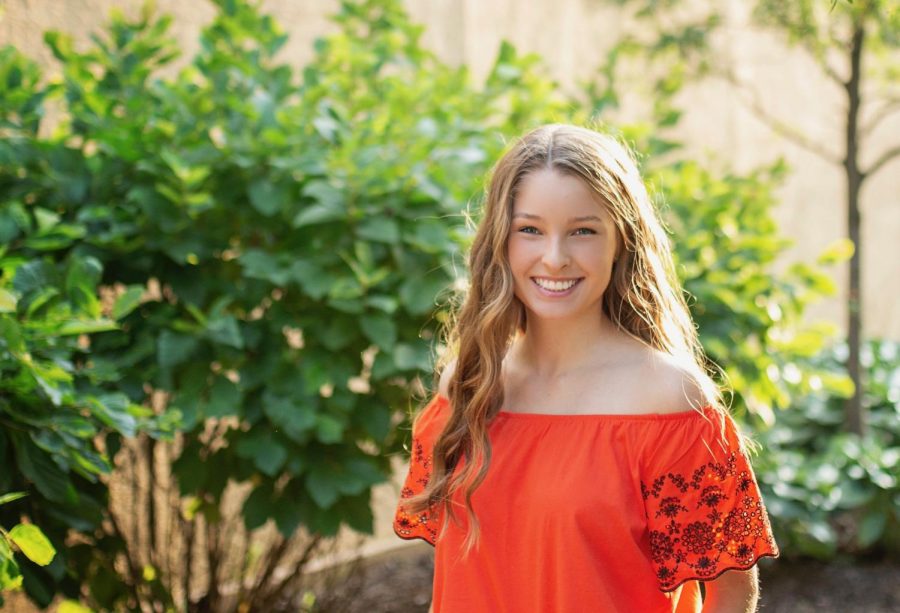 Senior Cecilia Harold seems to have no limits. Harold is president of National Art Honor Society and National Honor Society, an avid artist and varsity soccer player, and was captain and four year member of the cross country team. She is a member of Science National Honor Society, Spanish National Honor Society, and Blue Ribbons of Promise Club. Harold's talents have landed her recognition among her peers and by her teachers. 
Regarding Harold's influence and personality, cross country coach Jessica Lawton said she is "obviously always giving and thinking of ways to positively contribute…There are so many gifts that she chooses to share."
Over time, Harold fell in love with art as a means of creativity in self-expression. She was interested in art growing up and her family took her to art museums and gave her art books. Harold's aunt, a professional graphic designer, has been her main artistic influence and role model and has given her art orientated gifts and positive texts. 
  Regarding her aunt and mom, Harold said, "Something I value is that they critique me. I have developed my artistic eye because they are not afraid to tell me when something looks bad…It's really positive because it has pushed me to be the best I can when it comes to creating things." 
Lawton has been one of Harold's supporters as a helping hand and listening ear.  
"Ms. Lawton has always been a role model and looked out for me over the past four years," said Harold. 
Another supporter is Harold's AP Drawing teacher, Mrs. Kane, who exhibited her confidence in Harold by pushing her to submit her work to Scholastic (art contest) as with the scribble drawing of her friend Cassie Goswick and to hang in Representative Kolste's office at the capitol, as with her piece titled "Sisters." Harold received a 4 on her AP drawing portfolio.
As a representative of many clubs, Harold has additional responsibilities. As president of National Honor Society, she must run meetings and make others aware of volunteer hours and represent NHS in larger school events, such as on Homecoming court, or volunteering with Bags of Hope fundraising, for which she helped to raise $2,000 and design various posters, utilizing her talent in graphic design. As president of National Art Honors Society, Harold must participate in the events, as well as run meetings and be a key source of information for members. For Blue Ribbons of Promise club, who works to promote positivity and end bullying, Harold created a kindness video that was shared to Craig students as well as posters displayed around school for kindness week.
Harold is also an athlete. Harold has been playing soccer for Craig all four years and has played the game since age five. The Craig soccer team invited Harold to design their postseason shirts this past year. Additionally, after running in middle school at Edison, Harold joined the cross country team and continue with the sport her freshman year, in part because of her family, with a lot of runners and her dad who completed an Ironman. Harold says she would do it all over again. Feeling fit and strong are major motivators, as well as the role model captains Harold looked up to during her freshman year. 
This year, Harold was elected as a captain of the girl's cross country team for her strong leadership and positive personality. Harold was excited to take on this new responsibility as a role model to younger runners, and attempted to make everyone feel included so the incoming freshmen could also fall in love with the sport. 
"She was a fantastic captain and worked to make everyone feel included. Her positive energy influences everyone around her," commented Coach Lawton.
Cross country has allowed Harold with many opportunities to share her artistic talents from creating the cross country t-shirts and warmups to the state qualifier shirts, and selling her stickers at the widely attended Midwest Invitational. Midwest gave Harold the opportunity to share and profit off of her "Eat Pasta, Run Fasta" stickers, which had been a doodle in her sketchbook for multiple years. After finding a company that manufactured die-cut stickers, Harold reached out to business teacher and head cross country coach Brandon Miles to aid in supplying funds to purchase and sell them at Midwest. 
"He was kind enough and confident in me enough to front the money so I could order them and we ended up making our money back and profiting from them, which benefited the cross country team…that creative process of developing something and then making it a reality was enjoyable," reflected Harold. 
In the future, Cecilia Harold will attend either DePaul University or University of Minnesota Twin-Cities. Harold chose these schools for their strong academic programs, and convenient location to market her work and gain valuable internships. Currently, she is interested in pursuing a degree in graphic design, but is open to other artistic paths. Harold's positivity and artistic talent will stay at Craig for years to come, with her permanent legacy being this year's senior class mural.
About the Writer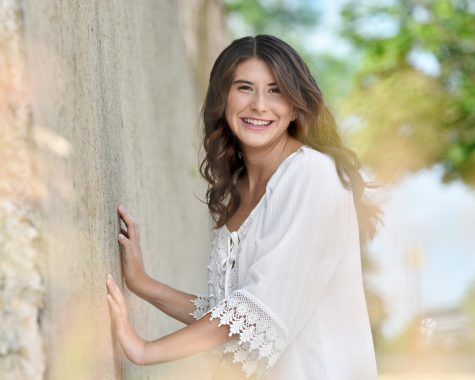 Gabby Petruzzello, Chief Editor, Photographer, and Reporter
(She, her, hers)
Gabby Petruzzello is a Senior at Craig High School. She has been on the newspaper for three years, and is currently the Chief Editor...