Spotlight on Seniors: Jonathan Hernandez is a Jack of All Trades
"Friends become our chosen family" -Unknown
For Jonathan Hernandez, these words could not be more true. His teammates have become his family. Hernandez has been playing football since fifth grade and lacrosse since freshman year. Hernandez's interest was first sparked when he began watching sports. The thrill and intensity of the sport (football) intrigued him, as well as the visible enjoyment of the player's faces.
"The time spent on the field with your friends becomes more like a family," says Hernadez
For the past eight years, Hernandez has dedicated his life to football, and for the past four, lacrosse. The people always bring him back to the sports, as they build connections over their similar interests. Hernandez's dedication to football won him a spot on this year's homecoming court. For him, the experience was quite fun, with the highlights being walking in the parade and participating in the assembly. Although Hernandez was disappointed in how the game played out, he still enjoyed the dance. Notably, Hernandez was the Big 8 Conference defensive linemen. Hernandez's favorite memories over the years are any time spent with his teammates, with wins being an added bonus. If awarded a scholarship, Hernandez may continue to pursue athletics.
His dedication expands beyond just sports. He is active in Future Business Leaders of America (FBLA), manages the Cougar Dens, and is part of the Distributive Education Clubs of America (DECA) where he qualified for nationals.
"It's not necessarily any activity, it's who's in it that makes it enjoyable. It's more about the people not necessarily what I'm doing," says Hernadez.
Hernandez is not only consumed by athletics and extracurriculars, he also works at Dunham's.
Hernandez volunteers at a local church and soup kitchen during the holidays. During the summers, he makes trips up to Madison as a salesperson and last year, during Craig's job fair, Hernandez managed to score a professional job selling internet to people for Lake Winds Global. Though the jobs were only offered to people age eighteen, Hernandez scored a job as one of their salespeople. Currently, he is on leave until later in the Spring. He comments that it is a difficult trip up to Madison during the winter and especially during the athletic season.
Over the years, Hernadez has developed a good sense of time management. He applies this skill to whatever he does. He often feels that time slips away from him too quickly and that he wishes he had more time in the day.
Hernandez's passion isn't only seen on the field. Taylor Warrenburg, Jonathan's Pride teacher and an English and Special Education teacher, says that he is dependable and extremely respectful towards others' opinions and when sharing his own. Warrenburg continues by saying that Hernandez's personality and work ethic is a good role model for other students. Hernandez's determination and drive continues to inspire Warrenburg today as she has seen Hernandez overcome the persistent obstacles of time management.
"He is very passionate about things that he is interested in. He has a lot of really good opinions ,and he is very respectful when sharing his opinions to teachers and class. He is a good role model for other students with being so involved in many things, and he is just a really hard working student that I've enjoyed working with," says Warrenburg.
Looking towards his future, Hernandez is hoping for a scholarship towards college. He is looking at Georgia State University or University of Boulder-Colorado. Hernadez hopes to open his own auto-shop and build cars after college. With his future looking bright, Hernadez turns his focus to the last semester of his senior year.
About the Writer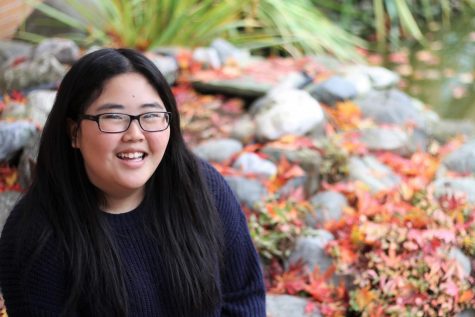 Emma Chamberlain, Reporter
(She, her, hers)
Emma Chamberlain is a sophomore. This will be her second year in Newspaper. She joined during the second semester of her freshman year...