Cross Country Athletes making history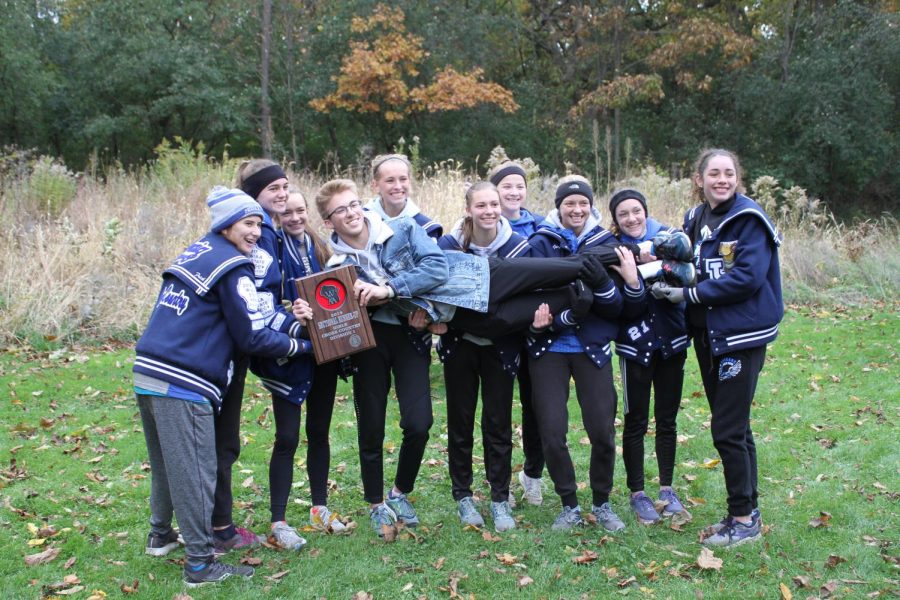 The Craig Girls Cross Country Team has been making history, with this program now being the most team state appearances of any sport at either Parker or Craig. Four years ago, a wave of underclassman full of talent joined the program and have reinvigorated its success after a long dry spell. Since then, the team has been to state for three years in a row, only missing a fourth state birth by ten points after half the team fell in a large pile-up at the start of the sectional race. Several of these athletes are included below such as Lauren Shanks and Ellie Lorenz, as well as some athletes that has joined within the past few years, helping the varsity team make history such as Clare Hulick and Rylee Coleman. These individuals below include the state qualifying team (including alternates) and individual qualifier Bryan Bloomquist.
Senior Ellie Lorenz has been one of the top runners consistently this season, being Craig's number one runner for over half of the races this year. With one of the fastest PR's on the team, Lorenz has ran 19:34. Lorenz was drawn to running because of the influence of her dad and brother, who are both avid runners. The team is what kept her going in the sport. The work ethic and fun are what make cross country truly special to Lorenz, as she was more motivated when working for a team. "We are very driven," said Lorenz. Lorenz has enjoyed the trips to state each year, being able to run at the state meet herself three years in a row. She enjoys these weekends that the entire team gets to spend together. Similarly, Lorenz also fondly recalls this year's team trip to the Kalahari. Lorenz is always looking to improve and each race, works to move up gradually for the good of her team. Outside of cross country, Lorenz has participated in track as a member of the state 4×800, and currently is a member of National Honors Society, Letterwoman's Club, and is a Cadet. After high school, Lorenz is planning to attend UW-River Falls to study Pre-Vet. "I've always been interested in working with animals. When I was little at my cousin's house, you would find me out with the dog or with the cows. I've always been drawn to animals my whole life," said Lorenz. Some fun facts about Ellie Lorenz are that she was born on the 4th of July, eats ice cream every day, and is constantly active, producing various battle scars, as the one when she fell off her bike in 6th grade. Lorenz has been a scoring member of the varsity team this year, and was voted Co-MVP.
Senior Ivy White could not imagine her life without running. White says that he whole life revolves around cross country and track. White has valued the connections made with other teammates, how close they are, and how they can push each other when it really counts. White fell in love with the sport after track her freshman year and decided to join cross country her sophomore year instead of volleyball. Comparing volleyball to cross country, White says that there is more drama in volleyball among the team and in cross country, everyone was nothing but welcoming. White's dedication to the sport has allowed her to persevere through numerous injuries. Her favorite memory in cross country was the Walk to State all three years of cross country, where the school could see the success of this underrecognized sport. Outside of running, White enjoys hanging out with friends and working. She works three jobs: Mocha Moments, Hawks Orchard, and the Concession Stand at the Sports Complex in the summer. After high school, Ivy White wants to attend either UW-Milwaukee or Viterbo University to study Criminal Justice to become a K9 Officer. White is considering running in college, as she will miss the sport and utilizes running as an anxiety-reliever. A fun fact about Ivy White is that she is a member of the Janesville Police Department's Police Explorer Program. More information can be found about this super senior on the Spotlight on Senior Series. 
Senior Lauren Shanks was excited for the season to be over, with four years of struggle being worth it for the benefit of the team. Shanks saw the state meet as a final victory lap with the team, and wanted to enjoy the experience as much as possible. Shanks said that "the team for sure" was the best part of cross country, and that her favorite memories have been going to state every year and the pre-meet team dinners. Shanks was drawn to the sport because her sister, Kaitlyn Shanks, was on the cross country team and influenced her to join. Shanks liked the team aspect of the sport and her early success spurred further motivation. Shanks first started running in 8th grade as a way to keep in shape for soccer, but soon the sport became a valuable part of her life. Although facing no injuries, Shanks was forced to sit on the sidelines of state her junior year due to sickness. Outside of running, Shanks has participated in gymnastics all four years and enjoys volunteering. Shanks is a member of Spanish National Honors Society, National Honors Society, and Letterwoman's Club. After high school, Shanks plans to attend either Winona State University or Carroll College and double major in Special Education and Elementary Education. Some fun facts about Lauren Shanks are that she loves Just Dance, likes to teach both of her two cats tricks, and her favorite food is shrimp. Shanks has no doubt made a strong impact on the team's success and on influencing underclassmen to be successful.
New to cross country this year is sophomore star Rylee Coleman, who ran on Craig's varsity for a majority of her races. After joining track her freshman year and finding great success, Coleman was pushed to join cross country. Coleman loves the feeling of going fast, and has ample opportunity to use her speed in cross country. After just missing state in track her freshman year, Coleman was looking for a comeback season. Her season proved to be quite a comeback, as she was part of the 22nd and most state appearances by a Craig athletic program. Regarding state, Coleman said, "I [was] so excited! After track, we just missed the mark for state and we just wanted to have a comeback season." Coleman is happy and proud to be the only sophomore on the varsity team, but says the best part of this season has been the team. "I've made so many new friends. It's awesome!" Coleman's favorite memory from this season was the Kalahari trip, which was a team bonding experience where everyone stayed in the dells overnight after the Nightfall Classic and spent all day at the Kalahari the following day. Coleman hopes to continue her athletic success, by going to state this year in track and next year in cross country. Some fun facts about Rylee Coleman are that she manages gymnastics, wants to become a nurse, grew up in a military family, and played soccer for eight years. 
 Junior Clare Hulick has been a valuable asset to the Craig cross country team, placing third on the team at the state meet. Family ties led Hulick to a passion for running. Hulick's mom was a runner and enjoyed it, while finding great success; other family members on her mom's side of the family also loved running. Hulick has continued with the sport because of the team. Hulick values the closeness of the team and how they can hangout outside of practice and genuinely enjoy being around each other. Emphasizing the closeness of this sport, Hulick said, "[I] (want) to run well for the team. It's more of a team sport than an individual sport." Hulick's favorite memories from the season include going to the Kalahari and racing the Nightfall Classic. After finishing in the 30's for place at state last year, Hulick was excited to go back. The success of Clare Hulick came with adversity in the form of a stress fracture during track her sophomore year. Trying to recover from the injury, Hulick had to significantly reduce the amount of training she would do in the summer, setting her back early in the season. Hulick hopes to go to state next year as an individual or a team. Outside of running, Hulick enjoys hanging out with friends and drawing, especially people and profiles. After high school, Hulick wants to be a physical therapist. Some fun facts about Clare Hulick are that she loves TikTok and that she has qualified twice individually in the 800 meter race in track. Clare Hulick is one of the athletes essential to the future success of Craig Cross Country. 
Junior Emily Austin has been a state runner and varsity athlete for the past few years, battling adversity to be successful. In 3rd grade, Austin's cousins, Mae and Zoe Williams and their dad, started a running club at Harrison Elementary School. They started running as something that would be fun to do together, and kept running for each other, and for the team, continuing to run in high school. "The team is what makes it fun," says Austin. Austin values the team above all else.  Austin has collected the motivation to fight during races for the good of the team. Her favorite memory is the state meet every year to "be with all the people you worked hard with." Austin was proud of the team and excited to be with all of the seniors before everyone graduates. Austin's favorite memory and an example of her perseverance is last year's Nightfall Classic, a PR race of 20:28, qualifying her for a personal achievement award. After the race, Austin found herself wrapped up in dozens of blankets, spending several hours in the ambulance with hypothermia. Additionally, Emily Austin works tirelessly to overcome significant lower leg issues. What many athletes would consider extra, Austin considers essential to being able to continue running. Austin has struggled through lower leg issues for several years, and says that it's changed her lifestyle. Austin has two or three appointments a week with various sports doctors and professionals to keep her "shins in check" and has to constantly ice. Outside of running, Emily Austin likes to hangout with friends, volunteer at Mercy, and actively participate in clubs. Austin is a member of Spanish National Honors Society, Science Honors Society, Octagon Club, Blue Ribbons of Promise, and Letterwoman's Club. She is looking toward another good season next year and wants to continue her academic success and become even more involved at Craig. After high school, Austin potentially wants to be a physical therapist, a nurse, or a teacher. Some fun facts about Emily Austin are that she loves the sciences and that a dream of hers is to go on a cruise ship for a summer to shadow a marine biologist.
Bryan Bloomquist has been a star athlete since day one. His freshman year at state, he was the first freshman to finish, qualifying as an individual for the state meet. Bloomquist placed 22nd. His sophomore year, Bloomquist won the Kettle Moraine Sectional Meet and was the first underclassman to finish and placed among the top 10 athletes, claiming a podium spot with a time of 15:55. This year, Bloomquist placed 25th with a time of 16:20. Bloomquist has a blazing 5k PR of 15:32 or so. Bloomquist joined cross country because he found success in the sport, and it was easier for him to be successful at running than with other sports. Bloomquist enjoys the team aspect of the sport and finds it fun to hangout with everyone. "The team is why I do it," he said. Bloomquist sees his teammates as his motivation and wanted to go to state to allow the boy's team to come and cheer him on and just have a good overall experience. Bloomquist's favorite memories with the team include hanging out at state every year and going to the Kalahari after racing the Nightfall Classic. Outside of running, Bloomquist enjoys hanging out with his friends and working on cars. He wants to get good grades and hopefully get into a good college to study high performance engineering. A fun fact about Brian Bloomquist is that he has been to state five times; three in cross country, and two in track. With a year ahead of him, Bloomquist has ample opportunity to strengthen his talents and his success. 
Bright and cheery Junior Cambria Thompson has brought a new atmosphere to the team, and has been a top ten runner for Craig since her freshman year, running in place of Ivy White at the state meet two years ago.  Thompson began running because of her older brother Ethan Thompson. Thompson felt she was really uncoordinated, but now really loves cross country and how it has made her a better person. "I like being part of the team and running; I really like it when we have a practice where we just mess around and have fun," said Thompson. One of Thompson's favorite memories was a practice this year at the end of the season. Remembering fondly this day, Thompson said, "I made a snow angel and had a snowball fight and sang Christmas songs the entire time on Halloween; It was really fun!" Thompson always tries her best to be the runner that she can be and achieve each goal that she sets. Thompson has struggled through hip pain and shin splints throughout the past few years. Thompson was thrilled that the team achieved their goal of state this year. "I'm excited that we're going as a team and that we made it. We did it together," she said. In the next two years, Thompson will continue to learn how to balance school, athletics, and church. Outside of running, Thompson enjoys reading basically anything other than non-fiction and playing games with her family. Some fun facts about Cambria Thompson are: she wants to be an architect, she goes to seminary every day at 5:30 AM, she stands 5'1'', loves Disney movies, and has 3 brothers (one older, two younger). Thompson says that she is obnoxious and loud after you have known her for a few weeks, but when you first meet her she is really quiet. "People thought I was mute my freshman year until a few weeks into the season and now I don't shut up ever," said Thompson. Thompson's energy and positivity has improved the team over the past few years. 
Sophomore Ema Frick has not only been a successful athlete, but has successfully boosted the morale of the team through humor and laughter. Frick ran at the state meet last year. Although forced by her parents to do the sport in order to play soccer in the spring, Frick has grown to enjoy the sport, and uses the team as her motivation. Frick's favorite memories with the team were in general getting to know the team and going to pasta dinners where she could eat "all the pasta." Frick has enjoyed the experience of going to state with the team, and even found enjoyment in spending an extra hour on the bus when it broke down on the way to the state meet this year. Frick sees her greatest obstacle in running is having to motivate herself. "I have to get over hills. That sucks," said Frick comicaly. Outside of running, Frick enjoys soccer and hanging out with friends. After high school, Frick plans to go to college to become a veterinarian. Some fun facts about Ema Frick are that she grew up in California and moved to Janesville in 7th grade, she has two dogs and two siblings (Edie and Easton). Ema Frick continues to elicit smiles and laughs wherever she goes.
About the Writer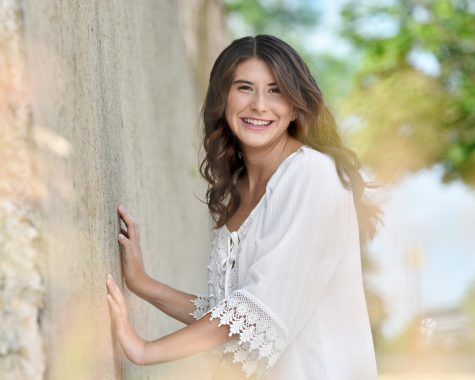 Gabby Petruzzello, Chief Editor, Photographer, and Reporter
(She, her, hers)
Gabby Petruzzello is a Senior at Craig High School. She has been on the newspaper for three years, and is currently the Chief Editor...