Spotlight on Seniors: Parker Rundquist pursues passion in music
Music connects people all across the world. Whether you listen, play, or perform, everyone is involved in music. To Parker Rundquist, music has held a special place in his life for as long as he can remember. Ever since he was young, he could remember singing along to the radio or hearing about his dad's band. 
"It's been my passion for as long as I can remember. Ever since I was a little kid, I've been singing along to the radio and stuff… it's a part of me." Rundquist says.
Rundquist's passion lies in music. Currently, he performs in jazz band, wind ensemble, jazz two, Illuminations band, and assists concert band. Rundquist also performs in acapella choir, Spotlighters, and school musicals. Most recently, Rundquist has been seen as Harold Hill in Music Man, Pat Denning in 42nd Street, and Pippin in Pippin.
Rundquist also plays many instruments including drums, piano, guitar, trombone, baritone, and tuba. He recently learned how to play tuba for concert band to help new students better. Rundquist also wants to learn how to play the saxophone. He continues to learn and improve through music as he learns new instruments and music.
Rundquist personally perceives his biggest achievement as the friends and connections he has made these past four years. He continues to make those connections with the activities he is involved in. Rundquist has not stopped pursuing what he loves and showing his passion for it.
"I just love the variety of it and I love the way it connects to everyone. I never met a person that doesn't like music," says Rundquist
Rundquist dedicates time outside of the school day to music. He partakes in musicals, Spotlighters, Illuminations Band, Jazz Two, and Tri-M. Even with his busy schedule, Rundquist manages to work as a cook and barista at a local coffee shop, Bodacious Brew, and is apart of student council at Craig. He continues to work towards his goals with minor complaints. Most often, he can be found in or around the Music Wing helping band director, Jake Wiele, working with younger band students, helping with choreography, or even just hanging out with friends.
"He has a good head on his shoulders and he keeps himself above water, even with all the busy stuff he has going on," says Wiele.
Though he may not oppose his workload, he still finds keeping grades up a struggle. This can be attributed to the late nights practicing or long work hours, but Rundquist continues to find ways through this. His strong work ethic can be seen many times. During the school day, Rundquist helps Wiele as a teaching assistant for concert band. He might copy music one day, but other days he might assist leading a section or conducting the band. 
Wiele has found inspiration through Rundquist's perseverance and admires Rundquist's ability to balance everything. He finds Rundquist's ability to tackle anything motivating. Rundquist is currently learning a new instrument to help the concert band further. Wiele also notes that being a brass player can be difficult especially when someone has braces. Rundquist plays a plethora of instruments ranging from percussion to trombone. He continues to learn new instruments as needed, and he wishes to learn the saxophone soon.
Looking towards the future, Rundquist is committed to UW Whitewater for music education. He hopes to come back next year and lead Spotlighters Band. He wants to come back and student-teach at Craig as well. With his future looking bright, Rundquist still has his senior year ahead of him. He wants to make this the best year possible in grades and music. Parker Rundquist's talents and leadership abilities do not go unnoticed in the music department as he continues to help others towards their goals.
About the Writer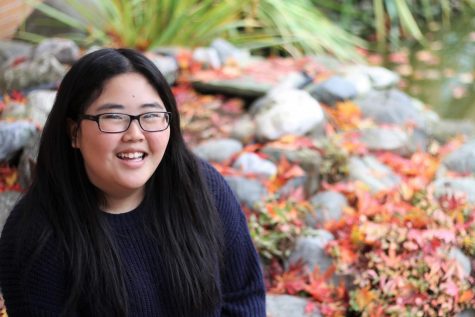 Emma Chamberlain, Reporter
(She, her, hers)
Emma Chamberlain is a sophomore. This will be her second year in Newspaper. She joined during the second semester of her freshman year...