Freshman Feature: Natalie Ziebell
Hang on for a minute...we're trying to find some more stories you might like.
It's not a bird. It's not a plane. It's Natalie Ziebell flying through the air doing back handsprings. Freshman Natalie Ziebell has big dreams of college gymnastics, dedicating over twenty hours a week to this grueling sport. 
Since she was seven years old, Natalie Ziebell had a passion for gymnastics. After trying dance, tap, and soccer, she realized her true passion lay in gymnastics. Ziebell loves the team atmosphere of the sport and the potential for growth that came with her motivated personality. Eight years later, Ziebell still carries that same fire for the sport and is now a Level 9 gymnast. 
Ziebell's schedule would give many students a headache just thinking about it. Monday through Thursday, she goes right from school to Lake City Twisters in Madison, doing her homework in the car, not getting done with practice until about 7:30. Ziebell even spends her weekends at the gym, from 4-6 on Friday and 8:30-11:00 on Saturdays, with Sunday being her only day of recovery.  With her relentless dedication, Ziebell has developed strong friendships with many of the Level 9's, who encourage her to try new skills. 
Those three hours a night are not a piece of cake either. Ziebell spends only ten minutes of warm-up for each event, with 45 minutes of practice on each event with fearless intensity.  Ziebell works hard year-round, getting only a month off in total throughout the year with one week for Christmas, three days for Thanksgiving, one day off for Halloween, and one week off for Spring Break. Ziebell spends up to two years perfecting her routine and even choreographs several of her teammate's floor and beam routines. 
Ziebell's competition season typically runs from December to March, with the rest of the year focusing on mastering and learning new and current skills. March is the state competition, which you must have a 32 all-round to qualify for. In order to move onto regionals, one must get a 34. To put that into perspective, that is 8.5 for every event. Top 7 all-around at Regionals go to Westerns in California, which is the highest competition for Level 9's. 
Ziebell's dedication to the sport has paid off in her numerous accolades. Two years ago, she won floor at Regionals and was first on beam, floor, and all-around at state. Her greatest accomplishment on floor is the front handspring, front layout, front layout tumbling pass. Her greatest accomplishment on vault is the yurchenko layout. On bars, the overshoot toe shoot (high to low bar, swing around the low bar and straddle to the high bar) is the most difficult skill that Ziebell has learned in her routine. On beam, Ziebell has mastered the back handspring back-tuck combo. 
"If I have my mind set on something, I am going to do it no matter what," said Ziebell. 
Ziebell notes the people who have made her successful as her mom and her coach who help her to overcome mental blocks. Ziebell believes her ability to be self-driven has allowed her to grow as a gymnast over the past seven years. With a little support from her parents and coach, Ziebell uses her dedication to push through every obstacle in her path.
Ziebell also finds inspiration in former Olympic Gymnast Nastia Liukin who offers competition tips to all levels of gymnastics. She sponsors the Nastia Liukin Cup for some of the best athletes in the country. Ziebell hopes to participate in this prestigious competition over the next four years. 
Ziebell plans to be a college gymnast, potentially at Lindenwood University in Missouri, or the University of Illinois at Urbana-Champaign and plans to attend both gymnastics camps this summer to make a favorable impression on the coaches. Ziebell has also attended multiple other gymnastics camps, namely at UW-Whitewater, University of Iowa, and the University of Nebraska. At these camps, the coaches watch you practice and learn new skills, and scouts for nearby colleges also come to observe. 
Ziebell's dedication to her sport and her desire to always improve are inspirational. Her dedication to overcome mental blocks through positivity and acceptance truly shows her inner strength. The future is unclear, but one thing is certain: Ziebell will continue to be a shining athlete at Craig High School, despite any adversity that may come her way.  
"I always have something good in each practice and something I can work on," said Ziebell wisely.
About the Writer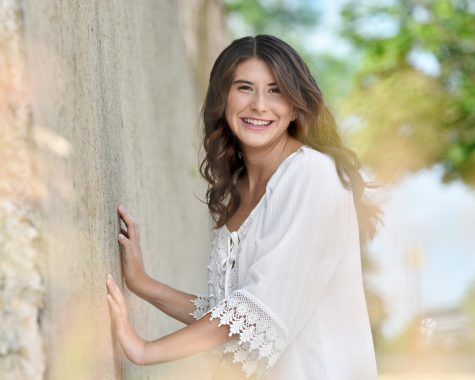 Gabby Petruzzello, Chief Editor, Photographer, and Reporter
(She, her, hers)
Gabby Petruzzello is a Senior at Craig High School. She has been on the newspaper for three years, and is currently the Chief Editor...