Sam Loizzo: the unofficial, official Craig photographer
Anyone who's ever been to a sporting event has likely seen this energetic and social photographer on the sidelines. He probably even asked you to pose with your friends for a picture. Even the athletes know him well. His name is Sam Loizzo.
His connections to Craig go beyond his career as a photographer of Craig's sporting events. Loizzo was a social studies teacher of AP Government, United States History, and Humanities at Craig for 35 years, as well as a swim coach for both boys and girls teams.
Loizzo attended UW-Whitewater, receiving a Bachelor's Degree in Broadfield Social Studies and a Master's Degree in Professional Development. Through his Master's program, Loizzo was able to take classes on alcohol and substance abuse, counseling, coaching, and photography.
During his education at UW-Whitewater, Loizzo became an Intern at Craig High School in 1975. In the year following his internship, Loizzo was a substitute teacher at Kenosha and Racine schools and found himself missing Craig. Loizzo was contacted to be Sam Lee's long-term substitute after some unexpected heart problems, teaching Inquiry to Sociology and Economics. Loizzo was hired as a full-time teacher the following year.
As a teacher at Craig, Loizzo started out teaching American History. Eventually, he and Jim Holt took over the Humanities program, transforming both the curriculum and the accessibility. The new innovation was the six terms of each Humanities semester. Holt and Loizzo wanted something contemporary that would draw a greater range of students to the class. Loizzo enjoyed teaching Humanities because the topics discussed in the classes allowed him to see the students individual opinions and struggles.
In his time as a teacher, Loizzo had the opportunity to teach and make a difference in the lives of about 3200 students. His former students have extended to many walks of life, with some of the most famous being General Andrew Poppas and Congressman and Speaker of the House Paul Ryan.
When reflecting on his time at Craig, Loizzo acknowledged how proud he was to have made an impact on many students. Although Loizzo became a teacher for the stereotypical reason of wanting to help students, he went above and beyond to achieve this goal. He enjoyed connecting with students and took counseling and drug and alcohol classes in order to better help his students, especially during the drug and alcohol problems of the 1980s.
Throughout Loizzo's career as both a photographer and a teacher, he has enjoyed being able to capture priceless moments and create meaningful connections. Loizzo enjoys capturing memories that are candid and unique. One of Loizzo's favorite experiences is senior pictures. He enjoys trying to capture the senior's ideal images. Senior pictures are his favorite because of the connections you are able to make within the couple hours spent with them.
Loizzo loves to be creative with his photography He especially loves the creative possibilities with senior sessions. One of his favorite pictures is Eric Hill reaching for a touchdown in a youth football game. He feels accomplished is he can fulfill the vision of the individual. All in all, Loizzo has a photo vault on Smugmug and his computer of over 3 million photos which is an incredible accomplishment in its own right.
Loizzo finds photography so meaningful and loves being able to alter lives by capturing some priceless moments at both the best and worst times of people's lives.
About the Writer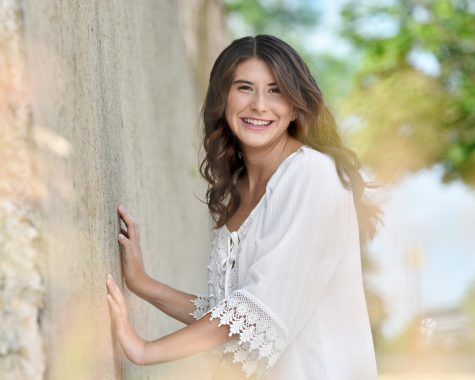 Gabby Petruzzello, Chief Editor, Photographer, and Reporter
(She, her, hers)
Gabby Petruzzello is a Senior at Craig High School. She has been on the newspaper for three years, and is currently the Chief Editor...