Leslie Brunsell pursues diversity and environmental cleanliness in Rock County
Honor Wall Ceremony Speech:
It's my privilege today to introduce Leslie Brunsell. Her accomplishments and impact on our community embody the entire purpose of the honor wall. After meeting with her, I was awestruck. It was amazing to me that someone could care about so many issues and contribute so much to the community and still be humble about her qualifications for the honor wall. Leslie Brunsell's work with diversity and the environment, and her connections to her international students is truly inspiring.
When Leslie Busse became a student at Janesville Senior High School, she was welcomed by a group of people who would eventually become her lifelong friends. She was involved in the American Field Service, the Blue-J, Bluebird Historians, Fidelis, the Phoenix, and Student Council. With a family of nine, Brunsell did not have the opportunity to host an international student, and in joining the American Field Service, she was able to meet students from diverse countries. Brunsell worked to find ads for the Blue-J, the school newspaper, and the Phoenix to keep costs down and increase student accessibility. Leslie began her volunteering as early as her high school years with her involvement in the Fidelis Club. Brunsell's high school experiences allowed her to uncover her passion for volunteering and for strengthening the social fabric of her community.
After high school, Brunsell followed the career path expected for women at that time and attended UW-Whitewater, eventually receiving a BA in Elementary Education. She taught 1st and 2nd grade at St. Thomas the Apostle in Beloit for two years and St. Mary's in Janesville for another seven. Although Brunsell enjoyed her time as a teacher, she began to look for a job that would include the insurance benefits she needed to support her and her seven year old daughter. Leslie eventually became a personal banker and marketing director at Bank of Wisconsin, which would become M&I bank, from 1979 to 2004. She was involved in a community outreach program called SOS which helped individuals, mainly widows to learn financial skills. Brunsell's position at the bank allowed her to interact with members of the community; Her experience, reliability, and skill for simplifying the complex rules of finance made her a much-sought-after advisor. When individuals came into the bank looking to open an account, Mrs. Brunsell would suggest how they could get involved in the community based on their interests so that they could truly call Janesville home. Leslie began teaching Junior Achievement at Lincoln Elementary, continuing to teach it for twenty years. She now teaches it at Wilson Elementary. She received Junior Achievement's Kim Hendricks Lifetime Impact Award in 2017.
Mrs. Brunsell's greatest achievement is opening her home to more than a hundred international guests from more than thirty-three countries over the past twenty-six years. Leslie's first year-long international student, Paz Moreno (PAZ), who she considers to be like a daughter to her, opened her eyes to how wonderful it can be to develop relationships with people from other cultures. In addition to hosting international students, Mrs. Brunsell was involved in the YWCA as a member of the planning committee for the Racial Justice Conference in 2016 and 2017, a teacher for "You, Me, and Our Colorful Community" since 2015, as a committee member for "Race Against Racism" and as a Y-teen advisor. Mrs. Brunsell's involvement in the American Association of University Women is another example of her work for equality. She served as President of the Janesville Branch from 1992 to 1994, served on and chaired several committees, and served as Vice President of Finance for the Wisconsin State Board of Directors from 1995 to 1997. Through her work with the American Association of University Women's Initiative Adelante meaning "welcome" or "come in", Leslie Brunsell was able to meet a group of like-minded individuals who supported her pursuit for diversity in the community. Together, they founded the Diversity Action Team of Rock County. Mrs. Brunsell participated in the Courageous Conversations Group, facilitated study circles called, "Facing Racism in a Diverse Nation," and for ten years chaired the Martin Luther King Jr. Commemoration . Leslie Brunsell was named a YWCA Woman of Distinction in 1998. She also received the UAW Civil Rights Service Award and in 2005, was named one of the Janesville Gazette's "50 Who Matter."
To add to her collection of community involvement, Mrs. Brunsell is an environmentalist. In first grade, Mrs. Brunsell remembers watching a film featuring Smokey the Bear and narrated by a famous cowboy of the day, Hopalong Cassidy,that showed her the dangers that forest fires and littering pose to the ecosystem. Her work with the environment grew from this powerful childhood experience. As a teacher, Brunsell showed this same film to her students in hopes of instilling that same message. Leslie Brunsell could be seen with her husband on her early morning walks carrying a garbage bag, picking up trash in her neighborhood and Palmer Park. Mrs. Brunsell saw the creation of Rotary Botanical Garden and has volunteered there since 1988. She has chaired many committees, including the first Harvest Fest, volunteered in the gift shop, with the Holiday Light Show, Arbor Day activities, and plant sales. She is an ambassador for the gardens and participates in weekend watering and community spring planting days. Leslie Brunsell hopes to leave a legacy of someone who respected the environment and respected all of the people that she came to meet. She hopes that her work eliminated some of the ignorance regarding diversity.
I want to end this speech by asking the students at Craig a favor. Mrs. Brunsell expressed that at her funeral, she wants everyone to take a garbage bag and fill it with trash as a way to end littering. I think that the least we can do as the students of Craig High School for all Mrs. Brunsell has done and still continues to do for the community is pick up a few pieces of litter. I want to challenge everyone to pick up at least one bag of trash this weekend as a way to honor Mrs. Brunsell's contributions to the community. Thank you and please join me in welcoming honor wall inductee Leslie Brunsell.
Leslie Brunsell's Honor Wall Plaque:
Graduating Class of 1965
After graduating from Craig in 1965, then from UW-Whitewater with a Bachelor's Degree in Elementary Education, Leslie Brunsell proceeded to teach for nine years at both Saint Thomas the Apostle Catholic Church and Saint Mary's School. Following her teaching career, Brunsell was a personal banker and marketing director at M&I Bank from 1979 to her retirement in 2004.
Leslie Brunsell shows her love and support for the Janesville community through her involvement in numerous organizations, notably the American Association of University Women, Rotary Botanical Gardens, and the YWCA. In addition, as one of the founding members of the Diversity Action Team, Brunsell chaired the Martin Luther King, Jr. Commemoration, facilitated study circles called "Facing Racism in a Diverse Nation," twice planned the Racial Justice Conference, and taught "You, Me, and Our Colorful Community" to young children at the YWCA. Her appreciation for diversity also gave her passion to have personally hosted over 100 international guests of all ages from more than 33 countries.
Brunsell has been a leading volunteer at Rotary Botanical Gardens since its inception in 1988. The community has honored her valuable contributions, naming her a YWCA Woman of Distinction and one of the Janesville Gazette's "50 Who Matter." Brunsell received the UAW Local 95 Civil Rights Service Award, the Rotary Club Paul Harris Award, and the Junior Achievement Award.
Leslie Brunsell's relentless dedication to supporting diversity and the environment in Janesville makes her a community hero.
Inducted April 5, 2019
About the Writer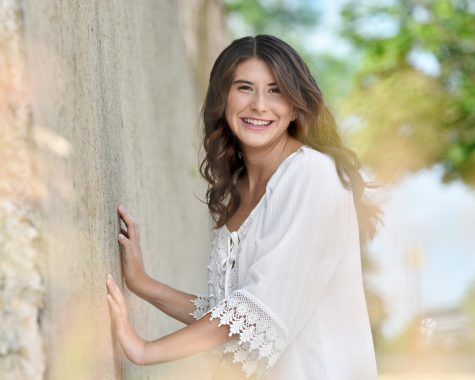 Gabby Petruzzello, Chief Editor, Photographer, and Reporter
(She, her, hers)
Gabby Petruzzello is a Senior at Craig High School. She has been on the newspaper for three years, and is currently the Chief Editor...